About 3D datacomm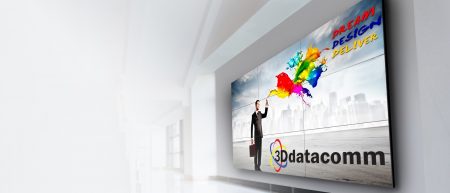 3D datacomm was formed in Fredericton, New Brunswick in 1998. The company's primary focus was around the structured cabling industry supporting Corporate, Government and Educational sectors. By the early 2000's, 3D had expanded its offerings to include a host of AV technologies aimed at the K-12 education market. Further expansion saw the opening of new offices in Halifax (2005) and St. John's (2007) as well as continued growth as an AV company branching out into core Government and Corporate sectors.
The convergence of the IT and AV industries, over the past five years, has played into 3D's core strengths. With a solid understanding of server room, classroom and boardroom environments, 3D datacomm has emerged as Atlantic Canada's largest Professional Audio Visual Integrator.
Having opened two additional offices in Saint John (2015) and Moncton (2014), 3D has continued to expand its presence and commitment to providing Atlantic Canadians with the right mix of AV products, services and professional resources required to bridge the gap between technology and true collaboration.
Mike Milburn
PRESIDENT
Mike Milburn has been involved in the communications industry for almost 30 years. Starting with NBtel is the late 1980's, Mike was an Installation and Repair technician as well as a Trainer for new management hires at the NBtel training center. He graduated from UNB in 1992 with a Bachelor of Education. At the age of 24 he sold his start-up cabling company to a competitor and went on to manage Atlantic Canada for Lucent Technologies. In the late 1990's, Mike managed a National Telecom sales team that focused on supplying Telecom equipment to incumbent Telephone Companies and Cable companies across Canada.
In 2004, Mike became an owner in 3D datacomm which started as a small communication integrator with 6 employees. Today, 3D datacomm has over 20 employees and five offices. He holds the Registered Communication Distribution Designer (RCDD) designation from BISCI, is a Smart Board Certified Master Trainer in both Education and Enterprise and is currently working on his CTS designation from Infocomm. Mike is very passionate about the AV Industry and participates in many industry advisor councils.
Adam Higdon
CUSTOMER SOLUTIONS CONSULTANT
Adam Higdon began his career in the audio visual industry 10 years ago and has gained experience in master control operations, live news audio, television broadcast, and large scale security camera installations.
He played the role as an audio technician to some of the biggest names in the AV entertainment industry, and was involved in many high profile events across Newfoundland, including many concerts with the likes of Blue Rodeo, Simple Plan and Our Lady Peace, to the induction of the new Premier to Newfoundland in December, 2010.
In 2011 Adam joined 3D datacomm as Service Manager. With expertise in problem solving and product knowledge gained throughout his career, Adam has been able to excel in his best developed qualities and is involved in every major audio visual project 3D datacomm as Lead Designer.
Nick Pascall
CUSTOMER SOLUTIONS CONSULTANT
Nick Pascall began his career in the audio visual industry close to 30 years ago in the UK as a show technician. During this time he focused on lighting design as a production show engineer and production manager.
He has also spent over 15 years in the IT industry working with ISPs running support departments and designing and managing data centres. Nick moved to Nova Scotia in 2012 and worked for 7 years combining a role in IT with Audio Visual design. During this time he developed his passion and skill for design, drawing on his expertise in audio visual products and IT networks gained throughout his career.
Nick joined 3D datacomm in April 2018 and immediately became and asset to the design team and works with many of our customers old and new providing innovative designs.
John B. Watson
DIRECTOR OF BUSINESS DEVELOPMENT
John Brent (JB) Watson is the Director of Business Development at 3D datacomm, assuming the role in September 2009. John represents 3D across Atlantic Canada and has regional account responsibilities for several of 3D datacomm's largest integrated Video Conferencing (Cisco and Polycom), Audio Visual and Omnivex Digital Signage clients.
John has over 10 years' experience across the IT, Telephony and AV industry and over 17 years of sales and sales management experience having held senior roles in Toronto and Atlantic Canada. Prior to joining 3D datacomm, John worked at Bell Canada.
John resides in Fredericton, NB and is a proud graduate of the University of New Brunswick.
Geoff Baker
DIRECTOR OF OPERATIONS
Geoff Baker joined the 3D datacomm team as Director of Operations in February 2019. Geoff brings over 20+ years' experience in the fields of Project Management and Operational Excellence. Geoff has worked on several multi-million dollar, multi-year projects for such organizations as Emera, Department of National Defense, Nova Scotia Department of Education, Lockheed Martin, College of the North Atlantic, Dalhousie University, Xerox, ExxonMobil, Husky Energy, St. John's Convention Centre, Memorial University, Stewart McKelvey, Ocean Capital, J.D. Irving Ltd, Horizon Health Network, and the Nova Scotia Health Authority.
Geoff has been wholly responsible for diverse workforces of up to 100 employees in all major cities throughout Atlantic Canada including full human capital management, operational coordination, and financial accountability. Additionally, Geoff has created and managed effective safety and quality programs whose effectiveness could be quantitatively measured.
Geoff is a Halifax native and holds a Bachelor of Arts degree from Saint Mary's University and is a Certified Construction Safety Supervisor.